A roundup of 9 Indian recipes with potatoes for you to try from your kitchen and enjoy with any rice or any bread.
These Indian potato recipes are vegetarian recipes.
Indian potato recipes
Potato is one of the vegetables available all around the year. As we all know potato is loaded with carbs sometimes when my kids don't feel like eating much I just give them some mashed potatoes.
Indian home shopping list is incomplete with potatoes because we can use potatoes and make many Indian recipes. Just boil the potatoes over the weekend and store them and use it for up to a week. Here are some of the options I use potatoes during the week like making Indian curry (dry or gravy). Use it as a stuffing inside the bread with a mix of spices and onion, stir fry, we can use as a binder while making Indian snacks in patties, make a paratha, etc.
Always keep boiled potatoes in the fridge so you can make use of them while making Indian recipes.
Costco baby potatoes in the instant pot is an easy recipe that just takes less than 15 minutes from start to end. I use the cast iron pan for this recipe in the end to give extra crispiness.
Instant pot potato masala | Poori masala
Quick and easy Restaurant style Instant Pot Potato Curry also known as poori masala is a time saver when your family demands poori and potato curry in an hour.
Masala roasted baby potato recipe with step-by-step images: An easy-to-make, onion-garlic-free potato dish made using baby potatoes and minimal Indian spices. A great snack and also go as a side dish with any meal of choice.
Pan-fried tandoori Aloo
Are you bored of eating and cooking potatoes the same way….looking out for anything new, interesting, and appetizing….?? Then today's post pan-fried tandoori aloo will definitely win your heart over. This simple recipe with handy ingredients will surely give a fancy makeover to baby potatoes.
Cold Winter nights call for a bowl of this warm Black-Eyed Peas and Potato Stew made in the Instant Pot. Serve this Vegan and gluten-free stew with some rice or crusty bread on the side.
Jeera Aloo or these vrat wale aloo is a delicious recipe made with boiled potatoes. It is my go-to recipe when I am craving something tasty that is ready in 15 minutes. My older son loves this a lot and asks me to pack it in his lunchbox.
Easy weeknight potato curry or aloo curry is my go-to easy dinner. When I'm at a loss of what to make, I can make this dinner in less than 15 mins. Bursting with flavor, it will please even the toughest critics in your family. And since you can make this either on the stove or in your Instant Pot, there is no excuse not to make this vegan, gluten-free recipe tonight! Video Recipe.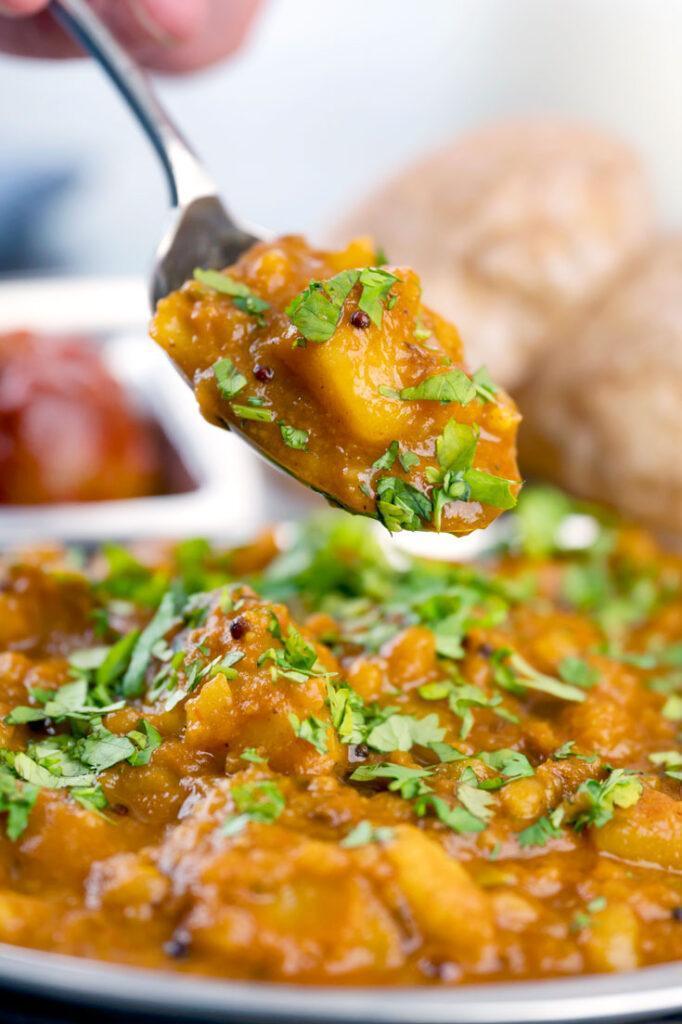 This is a very simple and flavorful recipe. This is made up of a few ingredients like fenugreek leaves, potato, tomato, and Indian spices, which are easily available in our kitchen.
This easy-to-make, delicious Punjabi aloo puri makes a great weekend brunch or breakfast. Here 'Aloo' refers to the potato curry (boiled potatoes are simmered in perfectly spiced tomato gravy). Puri is the deep-fried puffed Indian bread.
★ Did you make this recipe? Don't forget to tag me in Instagram #instantpotindianmom
Don't miss to try these Instant pot desserts
Milk burfi instant pot
Palkova instant pot
Instant pot mysore pak
*Disclosure: We are an Amazon Influencer. This means that if you decide to purchase items or services on Amazon through our links, Amazon will send a small commission to us at no additional cost to you

.