Learn how to make this Instant pot beets | pressure cooker beets recipe. The beets in the instantpot are cooked to perfection you will understand by seeing the below image.
Some of my kitchn's favorite and best instant pot accessories pick here – Check it out.
How to eat beets?
You can enjoy instantpot beets as beetroot curry or use the cooked beet in salad etc.
Best way to cook beets to retain nutrients
Though I used the pressure cook beets method today, the best way to cook beets to retain nutrients is by steam beets.
How to cook beets
Instantpot beets cooking time varies according to the size of the beets. If you see in this recipe I used medium-sized beets so the pressure cook time to cook beets took around 22 minutes.
what to do with cooked beets instant pot?
savory beet recipe ideas
We always make a curry or a gravy kind of stuff or an Indian dessert called beetroot halwa we make using cooked beets instant pot. All the beet recipes Indian mentioned here are vegetarian beet recipes.
Instant pot beets
Instant pot beets taste great and you can even serve this for kids whole will enjoy as such. For toddlers, you can make instantpot beets puree. I use this beet recipes instant pot for my toddler finger food will pressure cook for extra 3-4 minutes so it will be easy to handle by them.
Now lets us see how to make easy instant pot beets recipe.
INSTANT POT BEETS
I have taken around 4 beets to make this recipe and at least one cup of water. You will need an instant pot insert.
Rub and wash the beets in the cold running water.You should trim of the greens in the beets.
Add around 1 cup of water and place the instant pot insert and place the beets.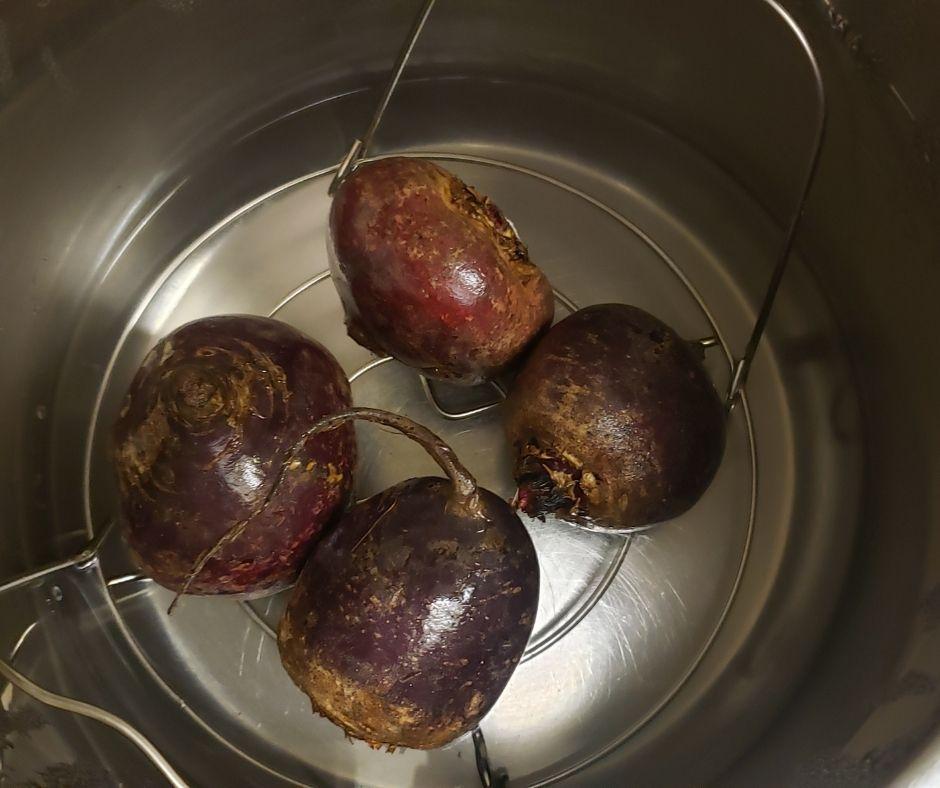 Close the lid and pressure cook for around 22-24 minutes if you want crunchy but soft beets.I dont do quick release for this recipe since we prefer crunchy soft beets to make this Indian beetroot curry recipe.
Open the lid once the pressure release naturally. Keep it aside for 2-3 minutes or run it under cold water and peel the skin.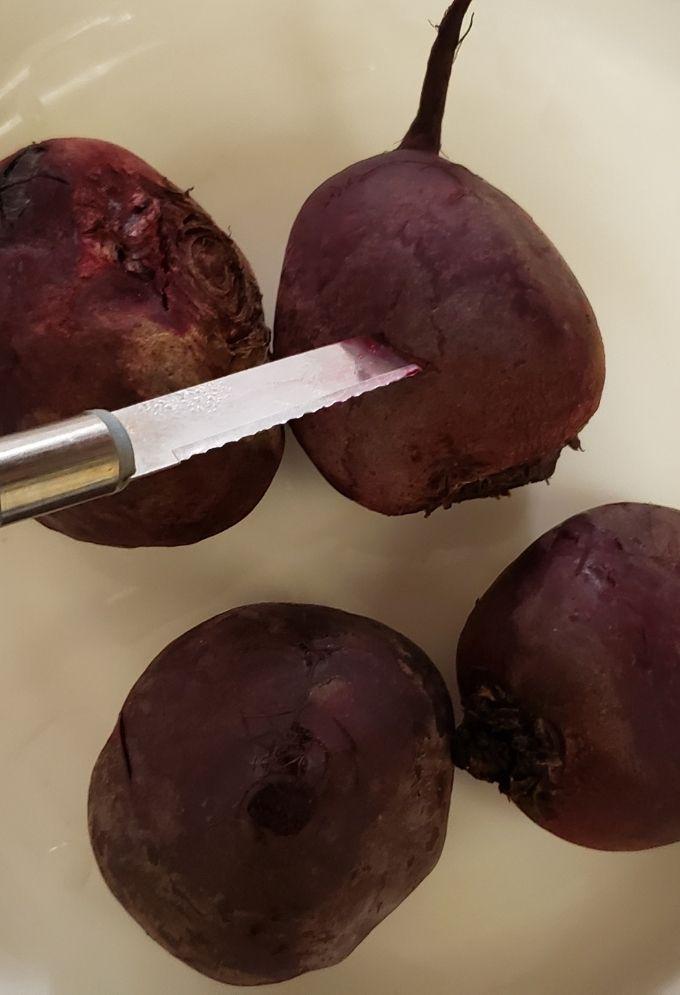 See how glossy the beets look.
Cut the beets to shape and sizes you want.
Enjoy your beet curry.
Instant pot beetroot curry Indian
Turn on the instant pot to saute mode. Once it displays hot add coconut oil after few seconds add one red chilli, mustard seeds, urad dal, Hing.
Add the beets ,salt and saute for 2 minutes.Turn off the instant pot and add the desiccated coconut or freshly grates coconut and enjoy the beetroot curry|beetroot poriyal recipe.
This is also called a beetroot Thoran recipe and also beet recipes vegan if you are looking for.
Some of the other vegetables you can steam using instant pot
Steam more than one vegetable using steamer
*Disclosure: We are an Amazon Influencer. This means that if you decide to purchase items or services on Amazon through our links, Amazon will send a small commission to us at no additional costs to you.