Instant pot trivet hacks will make you cook multiple things at the same time.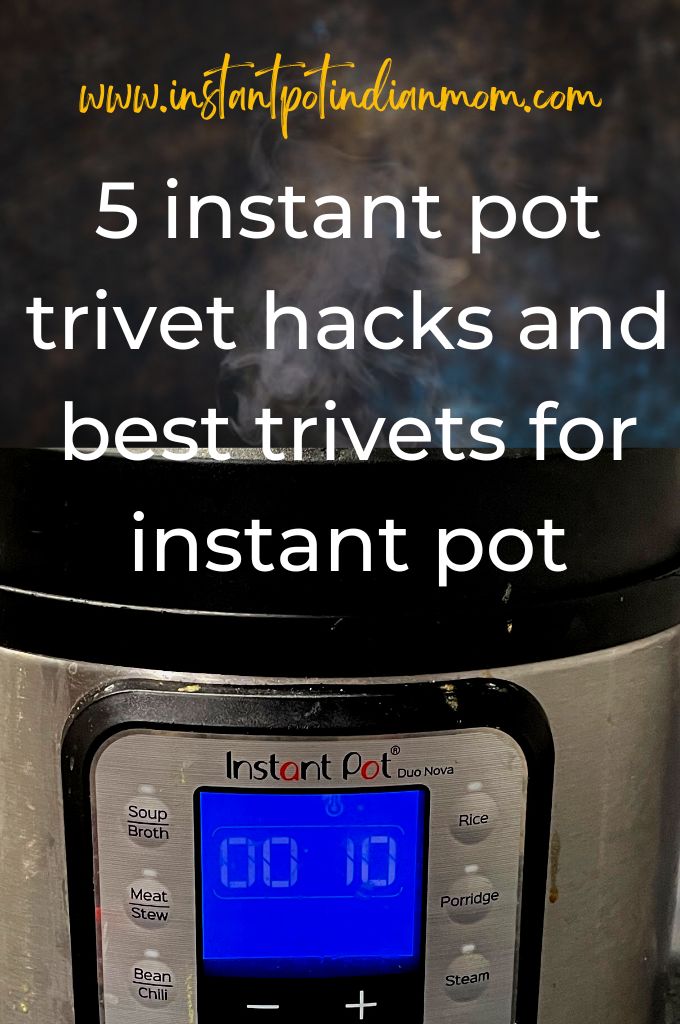 Cooking with an Instant Pot can make meal preparation quick and easy, but if you want to cook multiple items in your pot at once, you'll need to use a trivet. Here are five tips for using trivets in instant Pot to make meal planning easier and more efficient.
Instant pot trivet hacks that will make your life easier. Here are the 5 quick ways how to use an instant pot trivet
Instant pot trivet how to use
Instapot trivet Hack 1 :
When you want to make something like an Indian dal with some rice at the same time. Just add the lentil of your choice + some vegetables in the inner pot with some water and then place the trivet and place a bowl of rice on top of the trivet and pressure cook at the same time.
In the above picture I'm making lauki (bottle gourd) with some dal by placing the bottle gourd, lentil, salt, and water then I have placed the instapot trivet on top of it.
Now I have placed the rice bowl on top of the instant pot trivet. This instant pot hack will save you so much of time.
Instantpot trivet hack 2 :
Steaming vegetables using the trivet makes it easier and also avoids vegetables from getting soggy especially rooted vegetables like potatoes, sweet potatoes, etc. Sometimes I use the trivet and place the potatoes on top of it to get perfect instant pot potatoes.
Instantpot trivet hack 3 :
This is my favorite trivet I bought on amazon.com. You can use this to make eggs in the instant pot but I'm being a vegetarian I use this for steaming potatoes without touching each other. I will write a recipe soon on how to boil potatoes or steam potatoes using this kind of trivet.
Instantpot trivet hack 4 :
This hack is useful when you want to make a dessert with jaggery (unrefined sugar) and milk. Jaggery and milk always curdle when mixed together. So in this Indian dessert recipe, I kept the chana dal in the inner pot of the instant pot and placed the trivet, and kept the jaggery with some water to make the dessert.
Instantpot trivet hack 5
How about warming 2 different food at the time? Yes, you can do that as well. this is my fifth instant pot trivet hack you got to try.
I have my instant pot fried rice in the morning and had some leftovers with some gravy. I used the inner pot with instant pot fried rice and the gravy placed on top of the trivet to reheat the food at the same time.
If you have some amazing instant pot hacks and want to share them with others please leave the comments below.
Some of the different types of trivet for instant pot with its use :
12-PIECE Perfect IP Accessories Set . This 6-quart pressure cooker accessories set offers an essential accessory kit to your kitchen compatible with Instant pot, which includes: 1pc springform buckle pan, 1pc loophole steamer basket, 1pc silicone egg bites molds, 1pc stainless steel egg steam trivet, 1pc stainless steel kitchen tong, 2pcs of silicone cooking pot mitts, 1pc bowl clip, 1pc cooking book, 3pcs Magnetic Cheat Sheets, with pot accessory gift package.
PERFECT COMPATIBLE WITH INSTANT POT –  The steamer rack with 5.2 inches heat-resistant handle is very helpful in removing a chicken and cake pan or when using the pot-in-pot system without burning yourself, 1 inch legs keep food above water when steaming. Collapsible steam rack trivet insert, fold flat conveniently for storage. The steam rack works great with instant pot accessories 6 qt or 8 Quart and other electric pressure cookers, such as IP-duo50, IP-DUO60, IP-LUX60, IP-LUX60V3, Smart-60, Ultra-6, IPLUX80, IP-DUO80, IP-CSG60 and more. Measures 7.7″ x 5.2″. Easy to use, easy to clean. Ideal for any kitchen.
Maximum Capacity for 18 Eggs: can stack inside any 6qt and 8 qt Instant Pot, can hold up to 18 eggs each time. Each steaming rack can cook 9 eggs! Perfect for hard-boiling eggs or making eggs.
2-tier stackable pans allow for a variety of foods to be cooked simultaneously. Great for steaming vegetables, meat, or fish. Doubles as a dessert pan to make cheesecakes or use as a lasagna pan. Useful for pot-in-pot cooking. Perfect for reheating food without sacrificing taste and texture, also use as a container for storing food.
Pressure Canners for Canning – Keep your jars safely elevated during the hot bath canning process with Impresa's Canner Rack; our 2-pack allows you to create multiple layers in a batch which will speed up your canning
★ Did you like these hacks? Don't forget to give it a star rating below! Just click on the stars in the recipe card to rate. Don't forget to pin this recipe for later!
instant pot trivet hacks and trivet for instant pot
Instant pot trivet hacks will make you cook multiple things at the same time.