Spice up your weeknight dinners with delicious and flavorful South Indian recipes made in an Instant Pot! Learn the basics of amazing South Indian cuisine and try out these 10 easy recipes that are sure to make a tasty and satisfying meal.
South indian instant Pot Potatoe Curry
Try out this easy Instant Pot Potatoes Curry, which is a simple and flavorful one-pot dish! This recipe uses potatoes, olive oil, salt and spices to make an aromatic and fragrant curry that's sure to be a hit. Garnish it with fresh cilantro for the finishing touch!
Costco baby potatoes in the instant pot is an easy recipe that just takes less than 15 minutes from start to end. I use the cast iron pan for this recipe in the end to give extra crispiness.
South Indian Instant Pot Stuffed Eggplant
Eggplant is an incredibly versatile veggie, and these Instagram-worthy Instant Pot Stuffed Eggplants take it to a whole new level. The eggplants are stuffed with a flavorful mixture of spices and herbs like curry leaves, ginger, cumin, coriander etc, then pressure cooked in the Instant Pot until they're tender and succulent. Enjoy this creative dish on its own or serve over hot basmati rice!
South Indian Dal Curry
A staple of South Indian cuisine, this flavorful Dal Curry is easy and delicious. To make it, simply mix red lentils with onions, tomatoes, chana dal, etc. Then throw the ingredients into your Instant Pot and pressure cook until they're nicely combined and tender. Enjoy the hearty and savory dish with chapatis or hot basmati rice!
Instant pot pongal
Pongal is a traditional South Indian dish made of rice and lentils. In an Instant Pot, you can cook up a tasty vegan version of this dish in minutes! Combine soaked rice, split moong dal (or yellow lentils), cashews and spices for a delicious, comforting meal. Finish it off with some ghee or clarified butter, if desired, and serve hot with coconut chutney. Enjoy!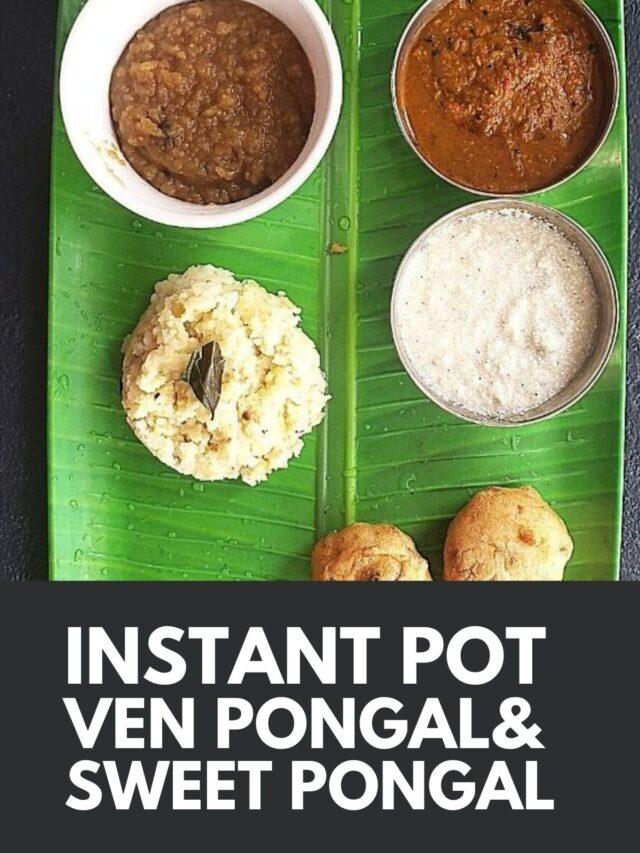 Indian lemon rice
Lemon rice is an easy and delicious accompaniment to any vegetarian meal. In an Instant Pot, you can cook it up in minutes. To make Indian lemon rice, add cooked white rice to a pressure cooker with some clarified butter (ghee). Add in seasoned garlic, ginger, turmeric, chilli powder and asafoetida, then finish with freshly squeezed lemon juice. Serve hot with your favorite South Indian curries or raita. Enjoy!
Sona masoori rice
Quick and perfect Sona masoori rice recipe using the instant pot. Sona mahsuri is one of the varieties of rice used in many Indian homes. With instant pot making Sona mahsuri rice is so easy and zero monitoring once you learned the right measurement and consistency you like it.
coconut rice instant pot
Coconut rice is another traditional Instant Pot recipe from South India. To make it, heat some clarified butter in the Instant Pot and add curry leaves and mustard seeds for a flavorful tempering. Mix in your cooked veggies like peppers, carrots and green beans. Add two tablespoons of toasted sesame seed oil to the pot along with jasmine rice and coconut milk. Secure the lid, press "Rice" on the Instant Pot, and cook for 4 minutes at high pressure. Allow all the pressure to release naturally before opening up again, fluff with a fork, then enjoy!
Instant pot green beans Paruppu usili
Paruppu usili is a creamy, flavorful dish made with lentils and spices. Start by soaking a cup of chana dal (split Bengal gram) overnight. Drain the water from it, then mix in some turmeric, red chilli powder, asafoetida powder, and salt to taste. Grind the mixture into a coarse paste in your food processor. Then we will steam the green beans and lentils in instantpot and enjoy the south indian recipe with some rice and ghee.
Instant pot carrot curry
Easy and delicious instant pot savory carrots ready in minutes. Most of the time we have carrots in the salad other than that we love to have this instant pot savory carrots with our instant pot sona masoori rice as sides.
Instant pot beets curry
For a delicious and vibrant dish, try this instant pot beetroot Curry! This piquant curry is cooked with soft cubes of beetroot and tempered with mustard seeds and curry leaves. The subtle spiciness from the chilli powder pairs perfectly with the sweetness of the beetroot, creating a wonderfully flavourful dish that will make your taste buds sing. Serve over some fragrant basmati rice for an easy and satisfying meal.
★ Did you make this recipe? Don't forget to give it a star rating below! Just click on the stars in the recipe card to rate. Don't forget to pin this recipe for later!