Wondering how to make sabudana khichdi instant pot
?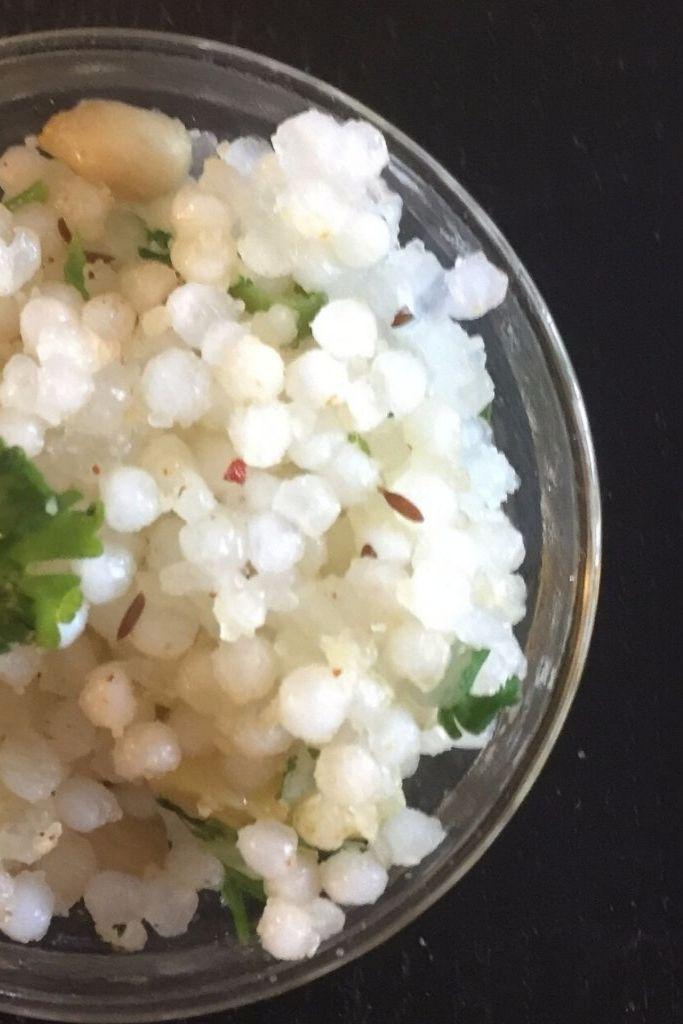 After many trials and errors finally learned the art of making the sabudana kichdi instant pot without sticking to each other. You can this sabudana upma spicy or no spice upma as you want.
Sabudana is also known as tapioca pearls will be widely used during fasting as a substitute for rice. We need to soak the tapioca pearls before making this sabudana khichdi. Just 4 – 5 hours of soaking is sufficient to make this khichdi. You don't need to soak overnight to make this khichdi instant pot.
All you need is just 2 mins of pressure cook time to make this delicious sabudana khichdi instant pot.
If you are new to instant pot don't forget to check this instant pot hacks
How to soak sabudana for making kichidi?
I used 2 cups of sabudana to make this Instant pot sabudana Khichdi
First, let us wash with rinsing Sabudana using a strainer in running water .This will help us in removing the excess starch present in the Sabudana.
Now add 1.25 cups of fresh water for 2 cups of sabudana .
Mixed it gently and set aside for 4 hours. After 4 hours you will see all the sabudana will have soaked up the water we added.If you see any liquid make sure you drain the leftover liquid completely.
Before moving into step by step process and tips, now let us see how to make this delicious sabudana khichdi in the instapot.
Step by step guide to making Sabudana khichdi in the instant pot
I used saute mode first and added some ghee, cumin seeds, potato, and green chilies. I let the potato cook for around 2-3 minutes. In the meantime, in a bowl, I added sabudana-peanut-salt and mixed it together, and kept it ready. Now add around 1/4 cup of water inside the pot once the potato is half cooked.
This is an important step which will make sabudana not to stick to the bottom. Then add the sabudana mix we prepared and mix it well. Close the lid and manual 2 mins.QR.
This is one of the healthy Sabudana recipes you must try since it's made with less oil, some peanuts, and potatoes.
If you are a vegan you can definitely try this healthy Sabudana recipe. You can have this javvarisi upma instant pot as a breakfast or dinner or even as a quick evening snack.
Don't miss to try these Instant pot desserts
Milk burfi instant pot
Palkova instant pot
Instant pot mysore pak
Sabudana khichdi in instant pot is very easy to make and flavorful at the same time.Mostly north indians have this during the navratri fast.
What is sabudana made of?
Sabudana is made from starch that's extracted from tapioca roots. If you want to know how it is made .Please google for more information.
what is sabudana in English?
Tapioca Pearls.
what is sabudana in tamil?
Javvarisi
what is sabudana khichdi instant pot made of?
Tapioca Pearls, potato, and some peanuts. If needed you add some carrots, peas when serving to kids or elders to make this more healthy.
Instant pot sabudana Khichdi|Javvarisi upma
Ingredients
2

cups

sabudana

1.25

cups

water

2

tbsp

oil/ghee

1

tsp

cumin seeds

1

medium size

potato (Skin Peeled)

chopped

2

nos

Green chilli

Slit

2

tbsp

Peanut Powder

Roasted and grind intoa powder

to

taste

salt

1/4

cup

water
Instructions
Turn on the instant pot saute mode ,once the display turns 'HOT' add ghee or oil of your choice,cumin seeds,green chilli and potato and fry for 2 – 3 minutes.

Put cumin seeds, 1 chopped potato, 2 green chillies

In the meantime,in a bowl add soaked sabudana,roasted peanut powder,salt .Mix it gently with a fork.Once the potato is half cooked,add 1/4 cup of water, add the sabudana mix ,again mix it gently with the fork and close the lid.

Choose manual 2 minutes.QR and see if it is cooked perfect .If not,turn off the instant pot and close the lid and leave it aside for 5 -7 minutes .

Your Instant pot sabudana Khichdi|Javvarisi upma is ready to serve.
Tried this recipe? Please mention @instantpotindianmom or tag #instantpotindianmom